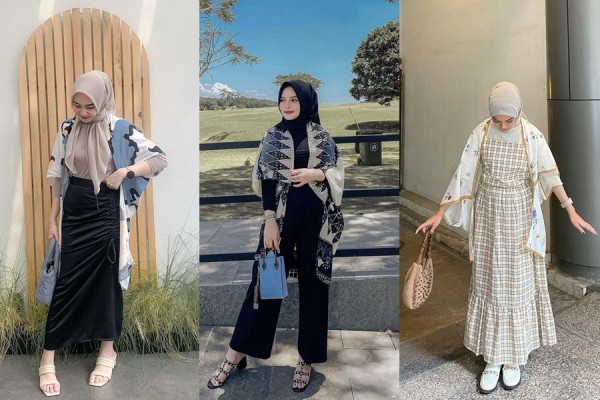 This outer hijab style idea can also be an option for Moms' everyday clothes. Both for formal and casual events. So, just adjust it according to your needs. By using an outer hijab, Moms' appearance will look more elegant and create the impression of long legs so that they are taller.
Are you curious about the outer hijab style from Indonesian celebrities? Check this out, Moms!
1. Plain Blazer
The first outer hijab that you can wear as an OOTD is a plain blazer. Moms can choose monochrome colors, soft pastel colors, or bright bold colors that give a cheerful impression.
Even though it gives a formal impression, Moms can also wear a blazer for casual events, you know.
To get a more relaxed look, you can combine a blazer with denim pants. Stylish and smart at the same time!
2. Knit Cardigans
Another outer choice for women who wear hijab is a knit cardigan. This type of outerwear made of knitted material is a trend so much favored by women.
Moms who want to look simple but still look elegant can wear this knit cardigan as an OOTD inspiration.
Just pair a knit cardigan with a plain dress to make it look more feminine.
3. Long Vests
Long vest is a sleeveless outer that Moms can mix and match with long clothes and hijab.
This outer hijab display can give a sweet, soft impression.
4. Striped Blazer
Moms who like the monochrome style but want to be different can copy the outer hijab style wearing this striped blazer!
You can combine this black and white striped blazer with denim pants for a casual look.
5. Coat
When the rainy season arrives, outer hijab with this type of coat can be the right OOTD choice.
Besides being able to warm the body, wearing a coat can also make Moms look even cooler.
Moms only need to mix and match coats with plain colored inners and bottoms.
6. Crop Cardigans
If a knit cardigan is too ordinary for you, then try choosing a crop cardigan with shorter details.
Moms can still look elegant by pairing a crop cardigan with a pleated skirt as their bottom.
For a more chic appearance, Moms can wear a pashmina hijab model.
7. Satin Blazers
A blazer is indeed a type of outer that looks timeless. Apart from plain and patterned blazers, Moms can also choose satin blazers. This one blazer can create a luxurious and elegant velvet impression.
Another plus point, satin blazers tend to be more comfortable to use because the fabric feels cool on the skin.
The light material also gives the impression of 'falling' when worn. Moms can mix and match this satin blazer with jeans flares.
8. Denim Vests
Another type of outer that can be worn by moms who wear the hijab is a denim vest. This denim vest can make Moms look cooler.
If Moms want a simple look, then you can still stand out by wearing a denim vest with a plain black inner and bottom.